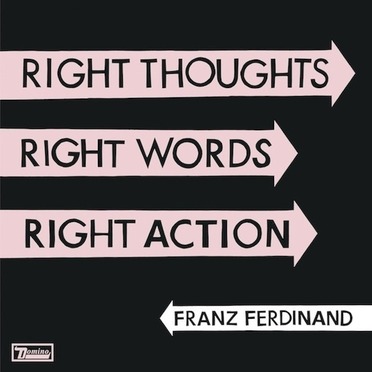 Right Thoughts, Right Words, Right Action
Franz Ferdinand
Label: Domino
Duration: 3:07:17
Genre: Rock
"The Passport Edition" limited to 500 sets worldwide and consisting of:
• Deluxe 180 gram, virgin 2xLP packaged in a hand numbered, die-cut gatefold sleeve. Record 1 contains the album and record 2 a live recording entitled 'Right Notes, Right Words, Wrong Order', a session captured at Konk Studios in London.
• Deluxe limited edition 6 panel CD gatefold soft pack containing main album plus 'Right Notes, Right Words, Wrong Order'.
• Right Action/Love Illumination coloured 7" single in deluxe, spined outer sleeve.
• The North Sea 12" single.
• An exclusive 7" containing two tracks unavailable elsewhere.
• An exclusive set of 4 postcards, each featuring a message from a different member of Franz Ferdinand.
• Coupon for digital version of 2xLP.
Made in the EU.
---
| Track | Duration |
| --- | --- |
| Right Action | 3:02 |
| Goodbye Lovers & Friends | 3:16 |
| The Universe Expanded | 4:35 |
| Brief Encounters | 3:09 |
| Bullet | 2:41 |
| No You Girls | 3:21 |
| Can't Stop Feeling | 6:03 |
| Treason! Animals. | 3:59 |
| Love And Destroy | 2:55 |
| Ulysses | 2:51 |
| Love Illumination | 4:07 |
| Evil Eye | 2:47 |
| Fresh Strawberries | 3:21 |
| Goodbye Lovers And Friends | 3:16 |
| Treason! Animals | 3:59 |
| Love & Destroy | 2:54 |
| Do You Want To | 4:14 |
| Stand On The Horizon | 4:12 |
| Evil Eye (Todd Terje Extended Mix) | 7:39 |
| Stand On The Horizon Todd Terje Extended Mix) | 8:10 |
| Outsiders | |
| Tell Her Tonight | |
| Love Illumination [Radio Mix] | 3:46 |
Original Release: 2013-08-26
Composer: Franz Ferdinand
UPC: 887829053413, 887828025527, 887828025534