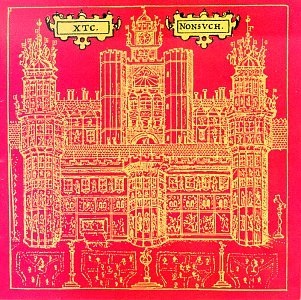 XTC
Label: Geffen Gold Line Sp.
Duration: 1:03:16
Genre: Alternative Rock
Nonsuch (styled as NONSVCH) is the eleventh studio album by the English band XTC, released on 27 April 1992. In a 1992 MTV interview, Andy Partridge said that he had selected the name of the album after encountering a drawing of Nonsuch Palace and, thinking that the archaic word "Nonsuch" meant "does not exist" rather than, as he later learned, "unique". In addition, the album title may have derived from a couplet in the lyrics of the final song of Oranges and Lemons (their previous studio album) "Chalkhills and Children":
I'm skating over thin ice
while some nonesuch net holds me aloft
The album was nominated for a Grammy Award for Best Alternative Music Album. "The Disappointed" was nominated for an Ivor Novello award. The album reached No. 1 on the Rolling Stone College album chart and No. 97 on the Billboard album chart in the U.S.
The album produced three singles: "The Disappointed" (which reached No. 33 on the UK singles chart), "The Ballad of Peter Pumpkinhead" (which reached No. 71 on the UK singles chart) and "Wrapped In Grey" (which, when withdrawn by Virgin, prompted the band to go on strike).
Two promotional videos were made.
---
| Track | Duration |
| --- | --- |
| Ballad of Peter Pumpkinhead | |
| My Bird Performs | 3:50 |
| Dear Madam Barnum | 2:53 |
| Humble Daisy | 3:39 |
| Smartest Monkeys | |
| Disappointed | |
| Holly Up on Poppy | 3:04 |
| Crocodile | 3:56 |
| Rook | 3:47 |
| Omnibus | 3:20 |
| That Wave | 3:33 |
| Then She Appeared | 3:52 |
| War Dance | 3:22 |
| Wrapped In Grey | 3:46 |
| Ugly Underneath | |
| Bungalow | 2:49 |
| Books Are Burning | 4:50 |
| The Disappointed | 3:36 |
| The Ugly Underneath | 3:55 |
| The Ballad Of Peter Pumpkinhead | 5:04 |
| The Smartest Monkeys | 4:24 |
| Didn't Hurt A Bit | 3:26 |
| Extras | |
| The Ballad Of Peter Pumpkinhead (Promotional Video) | |
| The Disappointed (Promotional Video) | |
| The Nonsuch Home Videos | |
| 45 Minute Studio Documentary | |
| Always Winter, Never Christmas | |
| Goosey Goosey | |
| Goodbye Humanosaurus | |
| Difficult Age | |
| Holly Up On Polly | |
| It's Snowing Angels | |
| Rip Van Reuben | |
| I'm The Man Who Murdered Love | |
| The Disappointed (First Refernce Recording) | |
| The Disappointed (Second Reference Recording) | 1:40 |
| Wonder Annual | |
| Down A Peg | |
| Car Out Of Control | |
| Where Did The Ordinary People Go? | |
Original Release: 1992-03-30
Composer: XTC
Arranged By: Dave Gregory, Andy Partridge, Colin Moulding
Producer: Gus Dudgeon
UPC: 720642447420, 5012981269920, 633367783325