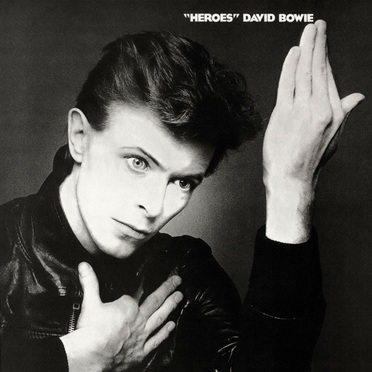 David Bowie
Label: RCA
Duration: 40:21
Genre: Rock
This was the incredibly prolific Bowie's second album of 1977, and his fourth if you count the two albums he produced for Iggy Pop, since he also co-wrote and played on most of the songs on The Idiot and Lust For Life. Recorded with most of the same musicians (though the great Robert Fripp replaces Ricky Gardiner on lead guitar) and again produced by Tony Visconti, Heroes follows a similar blueprint to Low but isn't as groundbreaking or as great, making it something of an inferior sequel. Still, it's yet another really good, easily recommendable David Bowie album, even if it's less hook-filled and less easily graspable than its superior predecessor. Again dividing the album into vocal and instrumental tracks only this time sticking an ill-fitting vocal track at the end, Heroes features longer songs and is definitely an album that you need to live with for a while in order to fully appreciate. The more song oriented first side begins with "Beauty And The Beast", which delivers angular, discordant funk with female backing vocals (à la Young Americans), and "Joe The Lion" continues with a lively dissonant track with some good guitar; both are songs that I didn't like at first but which I've significantly warmed up to with repeat plays. Of course, this album is essential for the dreamy title track alone, as the markedly inferior edited single version on his "greatest hits" collections simply don't do it justice. The greatest David Bowie song and I'd argue one of the greatest songs ever, period, Heroes features his best vocal performance by far, inspiring lyrics ("we could be heroes, just for one day"), and Robert Fripp's insistent, gliding guitar melody. Romantic, timeless, heroic, epic, majestic; these are just some adjectives that can be used to describe this remarkable song. The other highlight from the first side (aside from Fripp's consistently stellar guitar playing) is "Sons Of The Silent Age", an evocative, spacey sax-led ballad with another dramatic lead vocal. The next song, "Blackout", has never really clicked for me, but like Low before it, most of the album's second side is comprised of (mostly) instrumental Eno-ized soundscapes that are interesting (if not quite as interesting as the ones on Low) but which function best as background music. "V-2 Schneider" is an oddly hooky synths-and-sax-led effort whose vocals in the background work almost like another instrument, before the alternately soothing and ominous "Sense Of Doubt" segues into the lovely, Japanese-influenced (that's not an acoustic guitar but a koto you're hearing) "Moss Garden". The foreboding mood then returns on the not particularly pleasant "Neuköln" (particularly its atonal sax interjections) before the album surprisingly ends with the rhythmic, danceable, comparatively conventional if still synth-drenched vocal track "The Secret Life of Arabia", another song I found irritating at first that I've grown to quite like.
Rating: A-
Heroes ist eine LP von David Bowie, die 1977 erschien. Sie bildet zwischen Low und Lodger den Mittelteil von Bowies sogenannter "Berliner Trilogie", die in Zusammenarbeit mit Brian Eno entstand. In Heroes wurde der Sound von Low in eine positive Richtung weiterentwickelt. Heroes ist das einzige der drei Alben, das vollständig in Berlin eingespielt wurde.
Das Titelstück ist einer der bekanntesten Songs Bowies, eine Geschichte zweier Liebender, die sich im Schatten der Berliner Mauer treffen. Die Anführungszeichen im Songtitel sollten eine gewisse ironische Distanz zum romantisch-pathetischen Songtext zum Ausdruck bringen. Kritiker zählen das Album zu Bowies besten, nicht zuletzt aufgrund der Beiträge Robert Fripps, der aus den USA einflog und seine Partien binnen eines Tages einspielte. John Lennon wurde 1980, während der Aufnahmen zu Double Fantasy, mit den Worten zitiert, es sei sein Ehrgeiz, "etwas so gutes wie Heroes zu machen".
Heroes wurde im Hansa-Tonstudio in West-Berlin aufgenommen.
Obwohl Heroes mehrere dunkle und atmosphärisch dichte Instrumentalstücke wie Sense of Doubt oder Neuköln [sic!] enthält, erschien die LP nach dem melancholisch-innerlichen Low als leidenschaftliche und positive künstlerische Äußerung. Dies äußerte sich nicht nur im Titelstück, sondern auch etwa im rockigen Beauty and the Beast, bei Joe the Lion oder dem "ethno-rockend[en]" Schlussstück The Secret Life of Arabia. Der Text zu Joe the Lion, laut Visconti vor dem Mikrophon "in unter einer Stunde" geschrieben und aufgenommen, steht für das bei der Einspielung waltende Prinzip der Improvisation.
---
| Track | Duration |
| --- | --- |
| Beauty and the Beast | 3:34 |
| Joe The Lion | 3:06 |
| "Heroes" | 6:08 |
| Sons Of The Silent Age | 3:17 |
| Blackout | 3:48 |
| V-2 SCHNEIDER | 3:10 |
| Sense Of Doubt | 3:57 |
| Moss Garden | 5:05 |
| Neuköln | 4:32 |
| The Secret Life Of Arabia | 3:44 |
Original Release: 1977-05-10
Composer: David Bowie
Arranged By: David Bowie
Producer: Tony Visconti
UPC: 724352190805, 884487104136, 190295842857