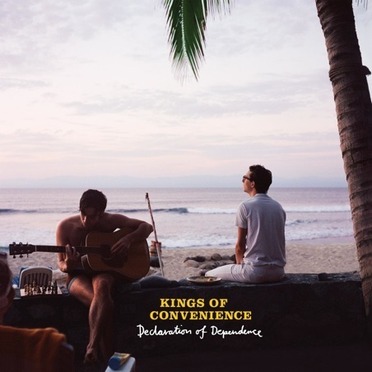 Declaration of Dependence
Kings of Convenience
Label: Virgin
Duration: 45:23
Genre: Indie Pop
Declaration of Dependence is the third album from Norwegian duo Kings of Convenience and it is also their first album in five years. It was released on October 5, 2009. "Mrs Cold" and "Boat Behind" have been released as radio singles in some countries.
The album was pre-released on September 21 for Spotify premium subscribers. It was released in selected countries (such as Poland) on September 28, 2009.
In Italy the album reached Gold status.
---
| Track | Duration |
| --- | --- |
| 24-25 | 3:38 |
| Mrs. Cold | 3:06 |
| Me In You | 3:09 |
| Boat Behind | 3:41 |
| Rule My World | 3:32 |
| My Ship Isn't Pretty | 3:47 |
| Renegade | 4:16 |
| Power of Not Knowing | 2:23 |
| Peacetime Resistance | 2:54 |
| Freedom and Its Owner | 3:23 |
| Riot on an Empty Street | 4:05 |
| Second to Numb | 3:37 |
| Scars on Land | 3:52 |
Original Release: 2009-10-20
Producer: Davide Bertolini, Kings Of Convenience, Robert Jønnum
UPC: 5099930684027