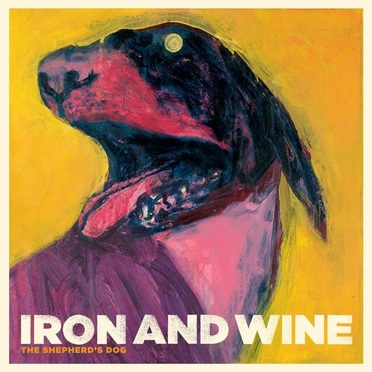 The Shepherd's Dog
(2007)
Iron & Wine
Label: Sub Pop
Duration: 49:45
Genre: Alternative & Punk
Shepherd's Dog is a significant departure for Sam Beam and judging from the other customer reviews it is not going to be an easy transition for a large bulk of his fans. However, if like me you were not particularly enamoured to his old style - stripped down folk in the mold of Bonnie Prince Billy - you might (and should) love this dizzying, vivid album. After listening to this towering achievement a couple of times one suspects that the detractors of Beam's reinvention are the same puritanical types who complained when Bob Dylan went electric. He has made an album that bucks all expectations while sacrificing none of his singularity of vision; both organic and layered with the precision of a studio perfectionist. Don't listen to the luddites, this is unmissable.
The opener 'Pagan Angel And A Borrowed Car', swells from a looped alt-country twang into swinging kaliedoscopic pop replete with vocal harmonies, piano, strings and little backwards psychedelic effects. As with his acoustic work, Beam relies less on traditional verse-chorus-verse structures than on cyclical lyrics, both poetic and anecdotal. The genious of this album is the way his unusual lyrical style is echoed in the experimental energies of the music, looping and slightly trance-like but not without a pop sensibility. Although Beam has a voice so soft and whispery it makes Belle & Sebastien sound like ruffians, he overcomes the limits of his vocal range by using his voice as an instrument (albeit one that carries obscure narratives). His voice plays off the musicianship in a call-and-response that's by turns cheerful and scarily intense, sometimes thickening it with double-track or assistance from backing vocalists.
'White Tooth Man' is darker; Beam's cryptic words spiralling out from speaker and then the next, with a variety of stringed instruments playing off one another until the tension builds to a cacophanous climax. Has a sitar ever been used so ominously since the Stones? Kular Shaker this isn't. 'Lovesong of the Buzard' is gentler, humming with warmth and awakening like a sunrise. A lovely acoustic slide guitar forms a chorus melody of sorts, a gorgeous compliment to the shimmering organs.
On 'Carousel' Beam's vocal is rendered acquatic through some filtered manipulation over some lovely plucked guitar work, retaining the intimacy of his older recordings but less of its starkness. 'House By The Sea' is a kind of sea shanty that builds over a bass saxophone refrain so squelchy it could be a didgeridoo; a bizarre mix of folk whimsy and Dionysian revelry. 'Innocent Bones' shuffles along on a tropicalia rythmn with sweetly sung vocals, harmonisations and little cascades of plucked banjo.
'Wolves (Song Of The Shepherd's Dog)' sounds like Crowded House remixed by King Tubby - in a good way! - with its breezy dub unravelling into an extended downtempo jam. For all its sonic playfulness, it is calculated bliss - nothing is wasted. Some of Calexico's multi-instrumental colour and fusion must have rubbed off on Beam since their fine collaborative EP 'He Lays in the Reins', which should be your next purchase. 'Resurrection Fern' and closer 'Flightless Bird American Mouth' are shiver-inducing ballads that retain the intimacy of his earlier recordings, albeit embellished with widescreen production touches. In contrast, the single 'Boy With A Coin', skips along on a handclapped rhythm in a trippy time signature and features some inspired slide guitar. While 'Devil Never Sleeps' is just a two-minute diversion, 'Peace Beneath The City' is more expansive in its ominous nocturnal atmosphere. All in all, it's a triumph, and surely one of the year's best.
---
| Track | Duration |
| --- | --- |
| Pagan Angel And A Borrowed Car | 4:32 |
| White Tooth Man | 3:57 |
| Lovesong Of The Buzzard | 4:26 |
| Carousel | 4:02 |
| House By The Sea | 4:21 |
| Innocent Bones | 3:42 |
| Wolves (Song Of The Shepherd's Dog) | 4:57 |
| Resurrection Fern | 4:49 |
| Boy With A Coin | 4:05 |
| Devil Never Sleeps, The | |
| Peace Beneath The City | 4:45 |
| Flightless Bird, American Mouth | 4:03 |
Original Release: 2007-09-25
Producer: Brian Deck
UPC: 98787071023, 825646976690