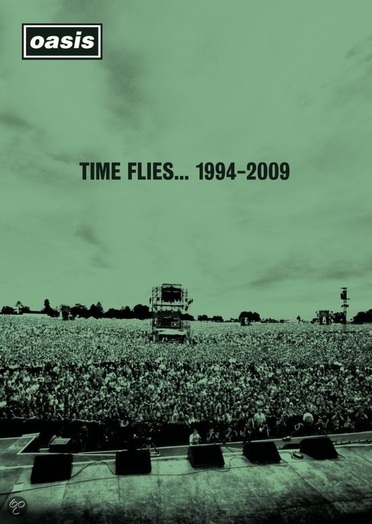 Time Flies... 1994-2009
(2010)
Oasis
Label: Sony Music
Duration: 3:05:38
Genre: Rock, Alternative Rock, Rock & Roll, Brit Pop
Go Let It Out contains elements from 'I Walk On Gilded Splinters'. Performed by Johnny Jenkins. Used courtesy of Mercury Records under licence from Universal Music Special Markets, Inc.
I'm Outta Time contains an excerpt from John Lennon interview with Andy Peebles for BBC Radio 1. First transmitted on 6th December 1980. ℗ BBC 2008.
Tracks 1 to 28 have alternative audio tracks with band commentary by Noel and Liam.
Duration: 177 mins approx
Format: DVD9
Region: 0
Audio: Dolby 2.0 Stereo
Picture Format: 16:9
Comes in standard DVD case packaged with one-sided inlay with liner notes.
For distribution in Russia.
---
| Track | Duration |
| --- | --- |
| Supersonic | 4:32 |
| Supersonic (US Version) | 3:43 |
| Shakermaker | 5:11 |
| Live Forever | 4:40 |
| Live Forever (US Version) | 4:44 |
| Cigarettes & Alcohol | 4:52 |
| Whatever | 6:23 |
| Some Might Say | 4:24 |
| Roll With It | 4:00 |
| Wonderwall | 4:39 |
| Don't Look Back In Anger | 4:48 |
| D'You Know What I Mean? | 7:24 |
| Stand By Me | 6:01 |
| All Around The World | 7:02 |
| Go Let It Out | 4:50 |
| WHO FEELS LOVE? | 5:42 |
| SUNDAY MORNING CALL | 5:34 |
| The Hindu Times | 4:19 |
| Stop Crying Your Heart Out | 5:00 |
| Little by Little | 4:01 |
| Songbird | 2:49 |
| Lyla | 4:18 |
| The Importance of Being Idle | 3:56 |
| Let There Be Love | 4:45 |
| Lord Don't Slow Me Down | 3:21 |
| The Shock Of The Lightning | 4:13 |
| I'm Outta Time | 3:51 |
| Falling Down | 5:00 |
| Rock 'n' Roll Star | 4:38 |
| Morning Glory | 4:18 |
| Champagne Supernova | 7:30 |
| Acquiesce (Live) | 4:05 |
| Don't Go Away | 4:49 |
| Where Did It All Go Wrong? | 4:29 |
| Gas Panic! (Live) | 7:05 |
| Little By Little (Live) | 4:30 |
| The Masterplan | 5:34 |
| Acquiesce | 4:38 |
UPC: 886977763090