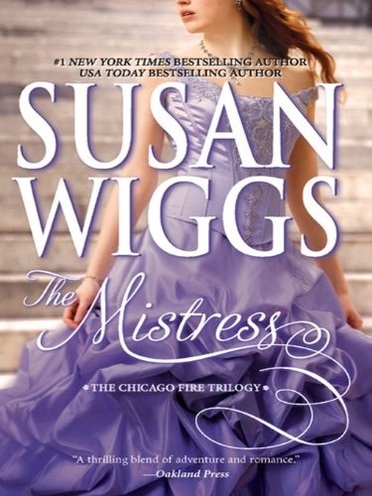 Author: Susan Wiggs
Publisher: Mira
Pages: 400
Series: Chicago Fire Trilogy #2
Genre: Romance
Format: Kindle Edition
Setting: Chicago, 1871
Sensuality: 7
Beautiful Kathleen O'Leary works as a maid at an exclusive girls school where she has been befriended by three rich students. One evening, the high-spirited girls convince Kathleen to dress in borrowed diamonds and silk and accompany them to a masquerade at the Hotel Royale in Chicago. Here, Kathleen catches the eye of the city's most eligible bachelor, Dylan Francis Kennedy, and the two are instantly attracted to each other. Fate intervenes when the two are caught in the midst of the great Chicago Fire of 1871 and, convinced they're about to die, they impulsively marry. Amazingly they survive, and Kathleen is faced with the difficult task of confessing her real identity to her new husband. To her shock, she learns that Dylan is also a fraud. Far from being a rich gentleman, he's a con artist, intent on marrying an heiress and taking her money.
How will the Irish maid and the gambler deal with being tied together in a marriage that began with deception? They've escaped death in the Great Chicago Fire, but can they survive the bonds of matrimony and the very real threat to their hearts? Especially when Kathleen is determined to reform him and Dylan is just as determined to separate marks from their money in this tale of dangerous games and wild adventure.
In this second installment of the trilogy that began with "The Hostage", Susan Wiggs creates a classic love story of a flawed hero who learns the meaning of love through trial, travail, and the passionate heart of a good woman. The story expertly meshes the high drama of a city ablaze and the lively action of a great con game, adds an equal slice of 1870's historical ambiance, and tops it all with expertly drawn characters. Wiggs just keeps getting better and better. "--Lois Faye Dyer"