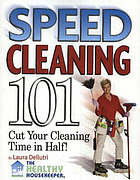 Speed Cleaning 101
(2005)
Author: Laura Dellutri
Publisher: Meredith Books
Language: en
ISBN: 9780696224140
The Healthy Housekeeper shows readers how to get in the cleaning mood and how to make a cleaning kit.
Offers techniques used by pros to clean better and more efficiently—how to clean smarter not harder.
Describes old-fashioned remedies that are wrong, dangerous, and ineffective.
Information on how to give a house a 10-minute emergency clean before visitors arrive.