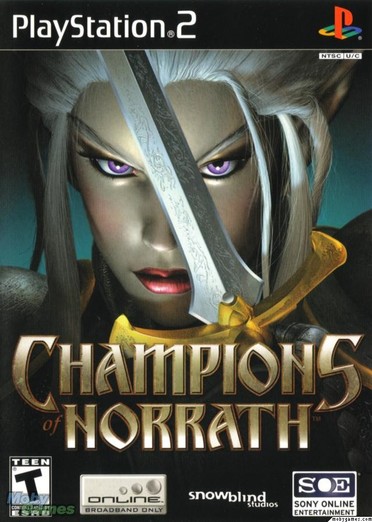 Champions of Norrath
(2004)
Developer: Snowblind Studios
Platform: PlayStation 2
Genre: Role Playing (rpg), Action
Publisher: Sony Online Entertainment Inc.
Rated: Teen
Champions of Norrath is a 3rd person dungeon crawler based on the EverQuest universe. There are five character classes to choose from (Barbarian Warrior, Wood Elf Ranger, High Elf Cleric, Dark Elf Shadow Knight, Erudite Wizard), each may be male or female. The game spans five acts that cover various randomly-generated locations across the world of Norrath.
Up to four people may play on a single console offline using a multitap, and up to four people online - one per console - via a broadband connection using the Sony Network Adapter.
---
Features: Create your own unique hero, customize his or her look and abilities, and travel fro Faydwer to battle the growing army of orcs Play with up to three others through a multitap Import other characters into the game, then play solo any time from any location More than 100 hours of gameplay per character -- unlimited battles, deadly missions and unbeatable character customization Go online & join an existing game, and host your own private games