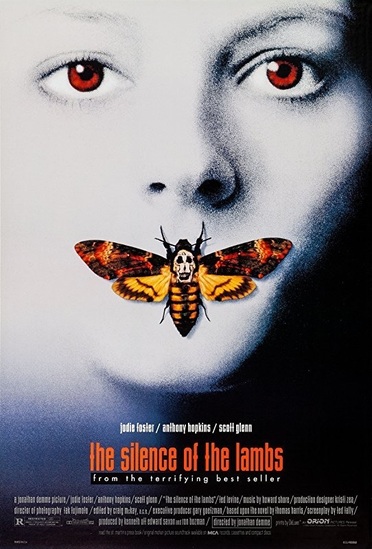 The Silence of the Lambs
Dr. Hannibal Lecter. Brilliant. Cunning. Psychotic. In his mind lies the clue to a ruthless killer. - Clarice Starling, FBI. Brilliant. Vulnerable. Alone. She must trust him to stop the killer.
Stars: Jodie Foster, Anthony Hopkins, Scott Glenn, Anthony Heald, Ted Levine
Director: Jonathan Demme
Writer: Thomas Harris, Ted Tally
Language: English
Studio: Orion Pictures Corporation
Duration: 118
Rated: R
DVD Release: June 1991
Clarice Starling, a young FBI agent, is assigned to help find a missing woman, and save her from a psychopathic killer with the help of another killer.
---
| | |
| --- | --- |
| Jodie Foster | Clarice Starling |
| Anthony Hopkins | Dr. Hannibal Lecter |
| Scott Glenn | Jack Crawford |
| Anthony Heald | Dr. Frederick Chilton |
| Ted Levine | Jame 'Buffalo Bill' Gumb |
| Frankie Faison | Barney Matthews |
| Kasi Lemmons | Ardelia Mapp |
| Brooke Smith | Catherine Martin |
| Paul Lazar | Pilcher |
| Dan Butler | Roden |
| Lawrence T. Wrentz | Agent Burroughs |
| Don Brockett | Friendly Psychopath in Cell |
| Frank Seals Jr. | Brooding Psychopath in Cell |
| Stuart Rudin | Miggs |
| Masha Skorobogatov | Young Clarice Starling |
| Jeffrie Lane | Clarice's Father |
| Leib Lensky | Mr. Lang, Storage Manager |
| George 'Red' Schwartz | Mr. Lang's Driver (as Red Schwartz) |
| Jim Roche | TV Evangelist |
| James B. Howard | Boxing Instructor |
| Bill Miller | Mr. Brigham |
| Chuck Aber | Agent Terry |
| Gene Borkan | Oscar |
| Pat McNamara | Sheriff Perkins |
| Tracey Walter | Lamar |
| Kenneth Utt | Dr. Akin |
| Adelle Lutz | TV Anchorwoman |
| Obba Babatundé | TV Anchorman (as Obba Babatunde) |
| George Michael | TV Sportscaster |
| Diane Baker | Sen. Ruth Martin (TN) |
| Roger Corman | FBI Director Hayden Burke |
| Ron Vawter | Paul Krendler |
| Charles Napier | Lt. Boyle |
| Jim Dratfield | Sen. Martin's Aide |
| D. Stanton Miranda | Reporter #1 (as Stanton-Miranda) |
| Rebecca Saxon | Reporter #2 |
| Danny Darst | Sgt. Tate |
| Cynthia Ettinger | Officer Jacobs |
| Brent Hinkley | Officer Murray |
| Steve Wyatt | Airport Flirt |
| Alex Coleman | Sgt. Jimmy Pembry |
| David Early | Spooked Memphis Cop |
| Andre B. Blake | Tall Memphis Cop (as Andre Blake) |
| Bill Dalzell | Distraught Memphis Cop (as Bill Dalzell III) |
| Chris Isaak | SWAT Commander |
| Daniel von Bargen | SWAT Communicator |
| Tommy Lafitte | SWAT Shooter (as Tommy LaFitte) |
| Josh Broder | EMS Attendant |
| Buzz Kilman | EMS Driver |
| Harry Northup | Mr. Bimmel |
| Lauren Roselli | Stacy Hubka |
| Lamont Arnold | Flower Delivery Man |
| Lawrence A. Bonney | FBI Instructor |
| Darla | Precious |
| John Hall | State Trooper (uncredited) |
| Lynette Jenkins | Nurse (uncredited) |
| Chris McGinn | Autopsy Victim (uncredited) |
| Ted Monte | FBI Agent (uncredited) |
| George A. Romero | FBI Agent in Memphis (uncredited) |
| Mike Schaeffer | Prison Guard (uncredited) |
| Maria Skorobogatov | Young Clarice (as Masha Skorobogatov) |
| Obba Babatundé | TV Anchor Man (as Obba Babatunde) |
| John W. Iwanonkiw | Orderly (uncredited) |
| Howard Shore | Composer |
| Tak Fujimoto | Cinematographer |
| Craig McKay | Editor |
Genre: Crime, Horror, Thriller
Media: Blu-ray
Sound: Dolby Digital 5.1 - Czech