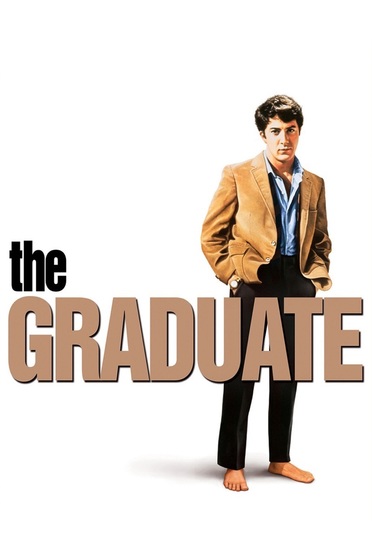 This is Benjamin. He's a little worried about his future.
Stars: Dustin Hoffman, Anne Bancroft, Katharine Ross, Murray Hamilton, Buck Henry
Director: Mike Nichols
Writer: Calder Willingham, Buck Henry, Charles Webb
Language: English
Studio: StudioCanal
Duration: 101
Rated: PG
DVD Release: January 2011
Benjamin, a recent college graduate is very worried about his future, he then finds himself in a love triangle with an older woman and her daughter.
---
| | |
| --- | --- |
| Dustin Hoffman | Ben Braddock |
| Anne Bancroft | Mrs. Robinson |
| Katharine Ross | Elaine Robinson |
| Murray Hamilton | Mr. Robinson |
| Buck Henry | Taft Hotel Desk Clerk |
| Brian Avery | Carl Smith |
| Walter Brooke | Mr. McGuire |
| William Daniels | Mr. Braddock |
| Elizabeth Wilson | Mrs. Braddock |
| Norman Fell | Mr. McCleery |
| Alice Ghostley | Mrs. Singleman |
| Marion Lorne | Miss DeWitte |
| Eddra Gale | Woman on Bus |
| Richard Dreyfuss | Boarding House Student |
| Arthur Tovey | Hotel Guest |
| William H. O'Brien | Hotel Guest |
| Frank Baker | Hotel Guest |
| Elisabeth Fraser | Party Guest |
| Elaine May | Girl with Note for Benjamin |
| Robert Surtees | Director of Photography |
| Sam O'Steen | Editor |
| Richard Sylbert | Production Design |
| Patricia Zipprodt | Costume Design |
| George R. Nelson | Set Decoration |
| Bob Wyman | Assistant editor |
| Don Kranze | Assistant Director |
| Jack Solomon | sound |
| George Justin | Production Supervisor |
| Meta Rebner | Script Supervisor |
| Harry Maret | Makeup Artist |
| Sherry Wilson | Hairdresser |
| Earl Gilbert | Gaffer |
| George Gordon Nogle | Camera Operator |
| Albert Bettcher | Camera Operator |
| Richard Borland | Grip |
| Joel Schiller | Assistant Production Design |
| Sydney Guilaroff | hair designer |
| Dave Grusin | Additional Music |
| Lynn Stalmaster | Casting Consultant |
| Paul Simon | Songs |
| Art Garfunkel | Music |
Genre: Comedy, Drama
Media: Blu-ray
Sound: 4-Track Stereo