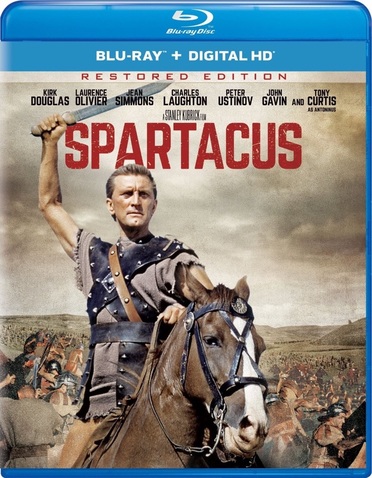 More titanic than any story ever told!
Stars: Kirk Douglas, Laurence Olivier, Jean Simmons, Charles Laughton, Peter Ustinov
Director: Stanley Kubrick
Writer: Dalton Trumbo, Howard Fast.
Language: English
Studio: Bryna Productions
Duration: 3
Rated: PG-13
DVD Release: December 1998
The rebellious Thracian Spartacus, born and raised a slave, is sold to Gladiator trainer Batiatus. After weeks of being trained to kill for the arena, Spartacus turns on his owners and leads the other slaves in rebellion. As the rebels move from town to town, their numbers swell as escaped slaves join their ranks. Under the leadership of Spartacus, they make their way to southern Italy, where they will cross the sea and return to their homes.
Meanwhile, in Rome, the slave revolt has become a deciding factor in the power struggle between two senators: the republican Gracchus and the militarist Crassus, each of whom sees the fortunes of the rebellion as the key to his own rise to power or humiliating defeat. As the two statesmen attempt to aid, hinder and manipulate the rebels for their own benefit, Spartacus and his followers press on toward freedom.
---
| | |
| --- | --- |
| Kirk Douglas | Spartacus |
| Laurence Olivier | Marcus Licinius Crassus |
| Jean Simmons | Varinia |
| Charles Laughton | Sempronius Gracchus |
| Peter Ustinov | Lentulus Batiatus |
| John Gavin | Julius Caesar |
| Robert Lawrence | Editor |
| Nina Foch | Helena Glabrus |
| John Ireland | Crixus |
| Herbert Lom | Tigranes Levantus |
| John Dall | Marcus Publius Glabrus |
| Charles McGraw | Marcellus |
| Joanna Barnes | Claudia Marius |
| Harold Stone | David (as Harold J. Stone) |
| Harold J. Stone | David |
| Woody Strode | Draba |
| Peter Brocco | Ramon |
| Paul Lambert | Gannicus |
| Robert J. Wilke | Guard captain |
| Irving Lerner | Editor |
| Nick Dennis | Dionysius (as Nicholas Dennis) |
| John Hoyt | Caius |
| Frederick Worlock | Laelius (as Frederic Worlock) |
| Tony Curtis | Antoninus |
| Alex North | Composer |
| Russell Metty | Cinematographer |
| Alexander Golitzen | Production Designer |
| Eric Orbom | Art Director |
Genre: Action, Adventure, Biography, Drama, History
Media: Blu-ray
Sound: DTS-HD MA 5.1