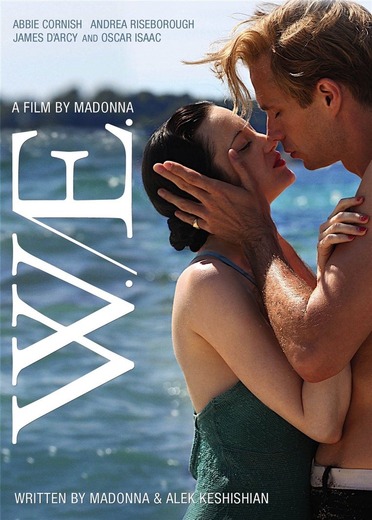 Their affair ignited a scandal. Their passion brought down an empire.
Stars: Abbie Cornish, Andrea Riseborough, James D'Arcy, Oscar Isaac, Richard Coyle, David Harbour, James Fox, Judy Parfitt, Haluk Bilginer, Geoffrey Palmer, Natalie Dormer, Laurence Fox, Douglas Reith, Katie McGrath, Christina Chong, Nick Smithers, Damien Thoma
Director: Madonna
Writer: Madonna, Alek Keshishian
Language: English
Studio: The Weinstein Company
Duration: 119
Rated: R
DVD Release: January 2012
Madonna's Academy Award nominated film (2011 Best Achievement in Costume Design, Arianne Phillips) delivers an elegantly stylish and beautifully dramatic look into the lives of two fragile yet passionate women intertwined across the decades. In 1998, New Yorker Wally Winthrop (Abbie Cornish) becomes enamored with what is believed to be the greatest romance of the 20th century - King Edward VIII's (James D'Arcy) surrender of the crown for the woman he loved, the chic and charismatic American, Wallis Simpson (Andrea Riseborough). Through a series of secret letters, Wally discovers the lifetime of romance Edward and Wallis shared together.
---
| | |
| --- | --- |
| Abbie Cornish | Wally Winthrop |
| Andrea Riseborough | Wallis Simpson |
| James D'Arcy | Edward |
| Oscar Isaac | Evgeni |
| Richard Coyle | William Winthrop |
| David Harbour | Ernest |
| James Fox | King George V |
| Judy Parfitt | Queen Mary |
| Haluk Bilginer | Mohamed Al-Fayed |
| Geoffrey Palmer | Stanley Baldwin |
| Natalie Dormer | Elizabeth |
| Laurence Fox | Bertie |
| Douglas Reith | Lord Brownlow |
| Katie McGrath | Lady Thelma |
| Christina Chong | Tenten |
| Nick Smithers | Major Fruity Metcalfe |
| Damien Thomas | George |
| Liberty Ross | Connie Thaw |
| Ryan Hayward | Win Spencer |
| Elaine Grainger | Casting |
| Charlotte Comer | Lady Alexandra |
| Lucinda Syson | Casting |
| Duane Henry | Dwayne / Security Guard |
| Anna Skellern | Daphne |
| Kim Armitage | Script Supervisor |
| Penny Downie | Dr. Vargas |
| David Redden | Auctioneer |
| Alberto Vazquez | Victor |
| Nicole Harvey | Nicola |
| Daniel André Pageon | Servant |
| Hywel Morgan | Journalist |
| Patricia Stark | Newscaster |
| Annabelle Wallis | Arabella Green |
| Audrey Brisson | Marie |
| Emily Denniston | Sotheby's Intern |
| Suzanne Bertish | Lady Cunard |
| Ben Willbond | Equerry |
| Leigh Zimmerman | East Side Woman |
| David Collins | Male Guest |
| Linda Glick | Woman Getting Taxi |
| Gil Cohen-Alloro | Hotel Clerk |
| Stephen Jones | Royal Milliner |
| James McNeill | Sotheby's Staffer |
| Lisa Gherari | Secretary |
| Vincent Montuel | Waiter |
| Jay Alexander | Security Guard |
| Austin Hardiman | Dinner Guest |
| Martin Poole | Footman |
| Catherine Balavage | Woman (uncredited) |
| Nicholas Blatt | Edwards Butler (uncredited) |
| Charles Chaplin | The Tramp (archive footage) (uncredited) |
| Abel Korzeniowski | Composer |
| Luc Eden | Security Guard (uncredited) |
| Hagen Bogdanski | Cinematographer |
| Jensen Freeman | Pug Owner (uncredited) |
| Danny Tull | Editor |
| Geovanni Gopradi | Sotheby's Bidder (uncredited) |
| Martin Childs | Production Designer |
| Sarah Molkenthin | Pregnant Miners Wife (uncredited) |
| Huw Arthur | Art Director |
| Olan Montgomery | Auction Guest (uncredited) |
| Steven Lawrence | Art Director |
| Melissa Russo | Pug Owner (uncredited) |
| Mark Raggett | Art Director |
| Jason Vendryes | Chief of Security (uncredited) |
| Molly Sole | Art Director |
| Sarah Stuart | Art Director |
| Celia Bobak | Set Decorator |
| Cherish Magennis | Set Decorator |
| Michel Rollant | Set Decorator |
| Arianne Phillips | Custome Designer |
| Zoe Brown | crowd makeup artist |
| Eldo Ray Estes | Makeup Artist |
| Barrie Gower | prosthetic makeup sculptor |
| Sarah Kelly | Makeup Artist |
| Lizzie Lawson | Makeup Artist |
| Chris Lyons | special effects teeth |
| Theresa Marra-Siliceo | hair stylist |
| Christopher Milone | Makeup Artist |
| Marc Pilcher | hair stylist |
| Robin Pritchard | special effect makeup daily |
| Rosemary Redlin | additional makeup artist |
| Silvie Salle | hair stylist |
| Mark Schmidt | hair stylist |
| Jenny Shircore | hair designer |
| Andrew Simonin | crowd hairdresser |
| Robert Trenton | prosthetic make-up |
| Colin Wyatt | hair stylist |
| Sian Angharad Anthony | stand-in assistant director (as Sian Angharad Lewis) |
| Eric Berkal | first assistant director: US |
| Phil Booth | first assistant director |
| Elle Crocker | stand-in assistant director |
| Sekani Doram | floor assistant director |
| Chris Foggin | Third Assistant Director |
| Will Haynes | base assistant director |
| Alexander Holt | crowd second assistant director |
| Geoffroy Koeberle | Assistant Director |
| Carol Lecacheur | second second assistant director |
| Nathan Rissman | second unit director |
| Lance Roehrig | second assistant director |
Genre: Drama, Romance
Media: DVD
Sound: Dolby Digital