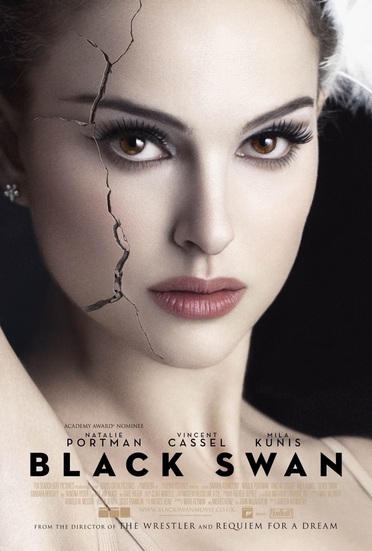 I just want to be perfect.
Stars: Natalie Portman, Vincent Cassel, Mila Kunis
Director: Darren Aronofsky
Writer: Mark Heyman, Andres Heinz
Language: German
Studio: Twentieth Century Fox Home Entert.
Duration: 112
Rated: 16 (FSK)
DVD Release: June 2011
"Ein anmutiger Albtraum! Schockierend, sinnlich, hypnotisch" – TV Digital
Für die ehrgeizige Ballerina Nina (Oscar®-Preisträgerin Natalie Portman) wird ein Traum wahr, als sie die Hauptrolle in "Schwanensee" ergattert. Diese Doppelrolle entwickelt sich für sie jedoch zum Albtraum: Während sie die Unschuld des weißen Schwans perfekt verkörpert, stößt sie als verruchter schwarzer Schwan an ihre prüden Grenzen. Angetrieben vom Ballettdirektor Thomas (Vincent Cassel) und bedrängt von ihrer Rivalin Lily (Mila Kunis), entdeckt Nina ihre dunkle Seite, die bald immer mehr Besitz von ihr ergreift und sie an die Grenze zwischen Wahn und Wirklichkeit bringt.
"Kultverdächtig" - Vogue
Darren Aronofskys (The Wrestler) für 5 Oscars® nominierter vielschichtiger Paranoia-Thriller ist mit Wynona Ryder und Barbara Hershey bis in die Nebenrollen top-besetzt. Natalie Portman erhielt für ihre Leistung den Oscar® als beste Hauptdarstellerin.
---
| | |
| --- | --- |
| Natalie Portman | Nina Sayers |
| Vincent Cassel | Thomas Leroy |
| Mila Kunis | Lily |
| Barbara Hershey | Erica Sayers |
| Winona Ryder | Beth Macintyre |
| Benjamin Millepied | David |
| Ksenia Solo | Veronica |
| Kristina Anapau | Galina |
| Janet Montgomery | Madeline |
| Sebastian Stan | Andrew |
| Toby Hemingway | Tom |
| Sergio Torrado | Sergio |
| Mark Margolis | Mr. Fithian |
| Adriene Couvillion | Violinist |
| Tina Sloan | Mrs. Fithian |
| Abraham Aronofsky | Mr. Stein |
| Charlotte Aronofsky | Mrs. Stein / Patron |
| Marcia Jean Kurtz | Costumer Georgina |
| Shaun O'Hagan | Stage Manager Sebastian |
| Christopher Gartin | Sexy Waiter Scott |
| Deborah Offner | Administrator Susie |
| Stanley B. Herman | Uncle Hank |
| Thérèse DePrez | Production Design |
| Michelle Rodriguez Nouel | Physical Therapist |
| David Stein | Art Direction |
| Kurt Froman | Understudy for Siegfried |
| Marty Krzywonos | Conductor |
| Tora Peterson | Set Decoration |
| Marjorie Durand | makeup department head |
| Leslie Lyles | Nurse |
| Ann Goulder | Casting |
| John C. Epperson | Jaded Piano Player (as John Epperson) |
| Arkadiy Figlin | Piano Player |
| Gayle Keller | Casting |
| Tim Fain | Violin Player (as Timothy Fain) |
| Jennifer Ingram | Costume Supervisor |
| Sarah Lane | Lady in the Lane |
| Clint Mansell | Original Music Composer |
| Andres Heinz | Story |
| Liam Flaherty | Man in Stall |
| Patrick Heusinger | Rich Gent |
| Jon Avnet | Executive Producer |
| Brad Fischer | Executive Producer |
| Marina Stavitskaya | Ballet Mistress |
| Olga Kostritzky | Ballet Mistress |
| Peter Fruchtman | Executive Producer |
| Ari Handel | Executive Producer |
| Christine Redpath | Ballet Mistress |
| Alexandra Damiani | Ballet Mistress |
| Jennifer Roth | Executive Producer |
| Rebecca Azenberg | Corps De Ballet |
| Rick Schwartz | Executive Producer |
| Tyler Thompson | Executive Producer |
| Laura Bowman | Corps De Ballet |
| David Thwaites | Executive Producer |
| Holly L. Fusco | Corps De Ballet |
| Matthew Libatique | Director of Photography |
| Abigail Mentzer | Corps De Ballet |
| Barette Vance | Corps De Ballet |
| Andrew Weisblum | Editor |
| Lillian di Piazza | Corps De Ballet (as Lillian Di Piazza) |
| Mary Vernieu | Casting |
| Amy Westcott | Costume Design |
| Megan Dickinson | Corps De Ballet |
| Chris Gartin | Sexy Waiter Scott |
| Jessy Hendrickson | Corps De Ballet |
| Geneviève Lebean | Corps De Ballet |
| Rachel Jambois | Corps De Ballet |
| Ryoko Sadoshima | Corps De Ballet |
| Kaia A. Tack | Corps De Ballet |
| Lauren Fadeley | Corps De Ballet |
| Sarah Hay | Corps De Ballet |
| John Epperson | Jaded Piano Player |
| Adrianna de Svastich | Corps De Ballet (as Adrianna De Svastich) |
| Jamie Wolf | Corps De Ballet |
| Carrie Lee Riggins | Corps De Ballet |
| Gina Artese | Corps De Ballet |
| Rhona Fox | Socialite (uncredited) |
| Dj Jess | DJ (uncredited) |
| Anne Bergstedt Jordanova | Dancer (uncredited) |
| Daralina Komar | Ballet Dancer (uncredited) |
| Tim Lacatena | Ballet Dancer (uncredited) |
| Todd Miller | Subway Rider (uncredited) |
| Carmella Stolyar | Assistant Stage Manager (uncredited) |
| Anne Bergstedt | Dancer |
| Alyson Cambridge | Dancer |
| Andrew Daly | Ballet Dancer |
| John Farrer | Audience Member |
| Meredith Miles | Featured Ballerina |
| Coll Anderson | sound effects recordist |
| Steve Baine | foley artist |
| Krissopher Chevannes | adr recordist (as Kris Chevannes) |
| Brian Emrich | Sound Designer |
| Nelson Ferreira | sound effects recordist |
| Dror Gescheit | sound recordist (as Drew Gescheit) |
| Anguibe Guindo | boom person |
| Gina Gyles | foley assistant (as Gina Wark) |
| Jonathan E. Hatton | theatrical house sound |
| Craig Henighan | re-recording mixer / sound designer / supervising sound editor |
| Harry Higgins | Sound Recordist |
Genre: Drama
Media: DVD
Sound: Dolby Digital 5.1 Deutsch, Arabisch / DTS 5.1 Deutsch