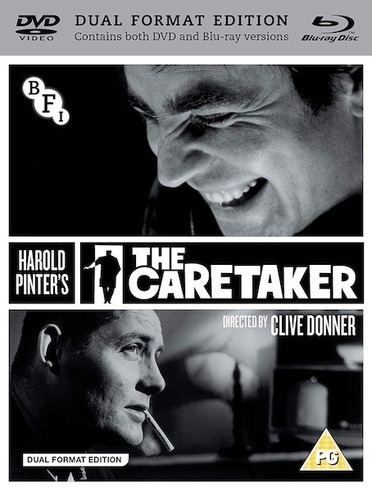 Based on the play 'The Caretaker'.
Stars: Alan Bates, Donald Pleasence, Robert Shaw
Director: Clive Donner
Writer: Harold Pinter
Language: English
Studio: BFI Video
Duration: 105
Aston (Robert Shaw), a quiet, reserved man, lives alone in a top-floor cluttered room of a small abandoned house in a poor London district. He befriends and takes in Mac Davies (Donald Pleasence), an old derelict who has been fired from a menial job in a café. In time Aston offers him a job as caretaker of the house. Aston's brother, Mick (Alan Bates) - a taunting, quasi-sadist - harasses the derelict when his brother is away, countermanding his orders. Eventually Aston, himself irritated by the cantankerous old man, puts him out.
---
| | |
| --- | --- |
| Alan Bates | Mick |
| Donald Pleasence | Mac Davies |
| Robert Shaw | Aston |
| Harold Pinter | Man |
| Nicolas Roeg | Cinematography |
| Ron Grainer | Music |
| Fergus McDonell | Editor |
| Richard Burton | associate producer |
| Elizabeth Taylor | associate producer |
| Noel Coward | associate producer |
| Reece Pemberton | Art Direction |
| Jill Carpenter | Makeup Artist |
| Bob Allen | Sound Recordist |
Genre: Drama
Media: Blu-ray
Sound: Dolby