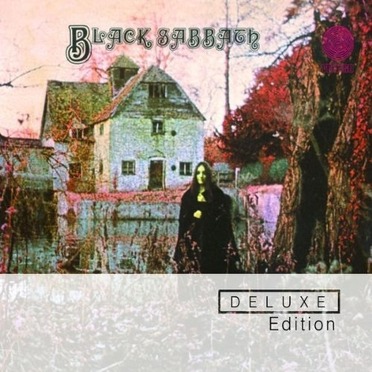 Black Sabbath
Label: Sanctuary UK
Duration: 42:55
Genre: Classic Rock
Artwork By [Expanded Edition Design] – Hugh Gilmour
Bass Guitar – Geezer Butler
Design [Album], Photography – Keef (4)
Drums – Bill Ward
Engineer – Brian Humphries, Tom Allom
Guitar [Lead] – Tony Iommi
Other [Sleevenotes] – David Wells
Producer – Rodger Bain
Remastered By – Andy Pearce
Vocals – Ozzy Osbourne
Written-By, Composed By – Ward*, Butler*, Osbourne*, Iommi*
Notes▼
"Paranoid" is expanded to a triple-disc containing the extremely rare 1974 Quadraphonic mix of the album in DVD. The album also includes deluxe digipak gatefold packaging with expanded booklets containing rare and previously unseen photographs, comprehensive sleeve-notes telling the story behind each album and include images of rare single covers and memorabilia from the period.
Disc One: Original Album (1970), remastered.
Disc Two: 1974 Quadraphonic Mix in DVD Audio 5.1 STS / 2.0 LPCM Stereo
Disc 3: Bonus Tracks, Recorded at Regent Sound Studios, 16 & 17 June 1970.
Additional photographs taken from the Paranoid tour programme'71.
Sanctuary Records make special dedication to the memory of Tim Hunt who carried out the initial material master tape transfer for this expanded edition release.
Ra-mastered @ Masterpiece
Disc 1, 2 & 3:
Tracks 1, 2, 4, 6 & 8 published by Westminster Music Ltd.
Tracks 3, 5, & 7 published by Onward Music Ltd.
Disc 1, all tracks (P) 1970
Disc 2, all tracks (P) 1974
Disc 3, all tracks (P) 2009
This Compilation (P)2009 Sanctuary Records Group Ltd.
(C)2009 Sanctuary Records Group Ltd.
Sanctuary Records Group Limited is a Universal Music Group company.
BIEM/SABAM LC06448
Set: 1782444 CD1: 1782445 CD2: 1782446 DVD: 1782447
Barcode: 6 02517 82444 7
CD1 Matrix: 06025 178 244-5 01 + 52184208 IFPI LV27
CD1 Mould: MADE IN GERMANY BY EDC B IFPI 0017
DVD Matrix: 06025 178 244-7 01 * 52266704 IFPI LV26
DVD Mould: A IFPI 0122
CD2 Matrix: 06025 178 244-6 01 + 52184210 IFPI LV27
CD1 Mould: MADE IN GERMANY BY EDC A IFPI 0145
Digitally remastered and expanded two CD deluxe edition of the 1970 debut album from the British Metal legends including a bonus disc containing nine previously unreleased tracks. Black Sabbath, the album, is often regarded as one of the first Heavy Metal full length releases. The album reached #8 on the UK Album Chart. Following its US release in May 1970 by Warner Bros. Records, the album reached #23 on the Billboard 200, where it remained for over a year, selling a million copies. 17 tracks. Sanctuary. 2009.
---
| Track | Duration |
| --- | --- |
| Black Sabbath | 6:21 |
| The Wizard | 4:24 |
| Behind The Wall Of Sleep | 3:37 |
| N.I.B. | 6:07 |
| Evil Woman | 3:25 |
| Sleeping Village | 3:46 |
| Warning | 10:32 |
| Wicked World | 4:43 |
| Wicked World (Single B-Side) | |
| Black Sabbath (previously unreleased / Studio Outtake) | |
| Black Sabbath (previously unreleased / Instrumental) | |
| The Wizard (previously unreleased / Studio Outtake) | |
| Behind the Wall of Sleep (previously unreleased / Studio Outtake) | |
| N.I.B. (previously unreleased / Instrumental) | |
| Evil Woman (previously unreleased / Alternate Take) | |
| Sleeping Village (Intro) (previously unreleased) | |
| Warning (Pt. 1) | |
Original Release: 1970-01-01
Composer: Tony Iommi, Ozzy Osbourne, Geezer Butler, Bill Ward
Producer: Rodger Bain
UPC: 602527008172, 5017615830125, 5050749203120, 5050159100323